One of the reason why I love Shopify Platform! Just like Facebook Pixel Integration, they also include Google Analytics eCommerce Tracking built-in to their platform. The best thing about this is that, it's really easy to implement, all you need to do is copy and paste your Google Analytics Tracking Script and turn on the eCommerce features in Google Analytics. The after that, it's pure awesomeness!
Set up Shopify Google Analytics & eCommerce Data
Login to Shopify Account
Go to Online Store > Preferences
Look for the Google Analytics section.
Now go to Google Analytics Admin > Tracking Info > Tracking Code
Copy the code and paste it to Shopify Google Analytics section in Preferences
Don't forget to enabled Enhanced Ecommerce.
Save the changes and all done.
Enabling eCommerce Setting in Google Analytics
At this point, you have Google Analytics account and GA is now enabled in your shopify preferences.
One last step and you're Google Analytics will start getting data from Shopify.
Google eCommerce Setting
1. Go to Google Analytics and go to Admin section.
2. Next, go to VIEW > Ecommerce Setting
3. Enable Enhanced Ecommerce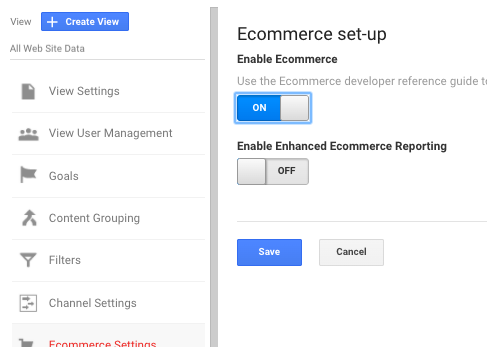 4. then Save